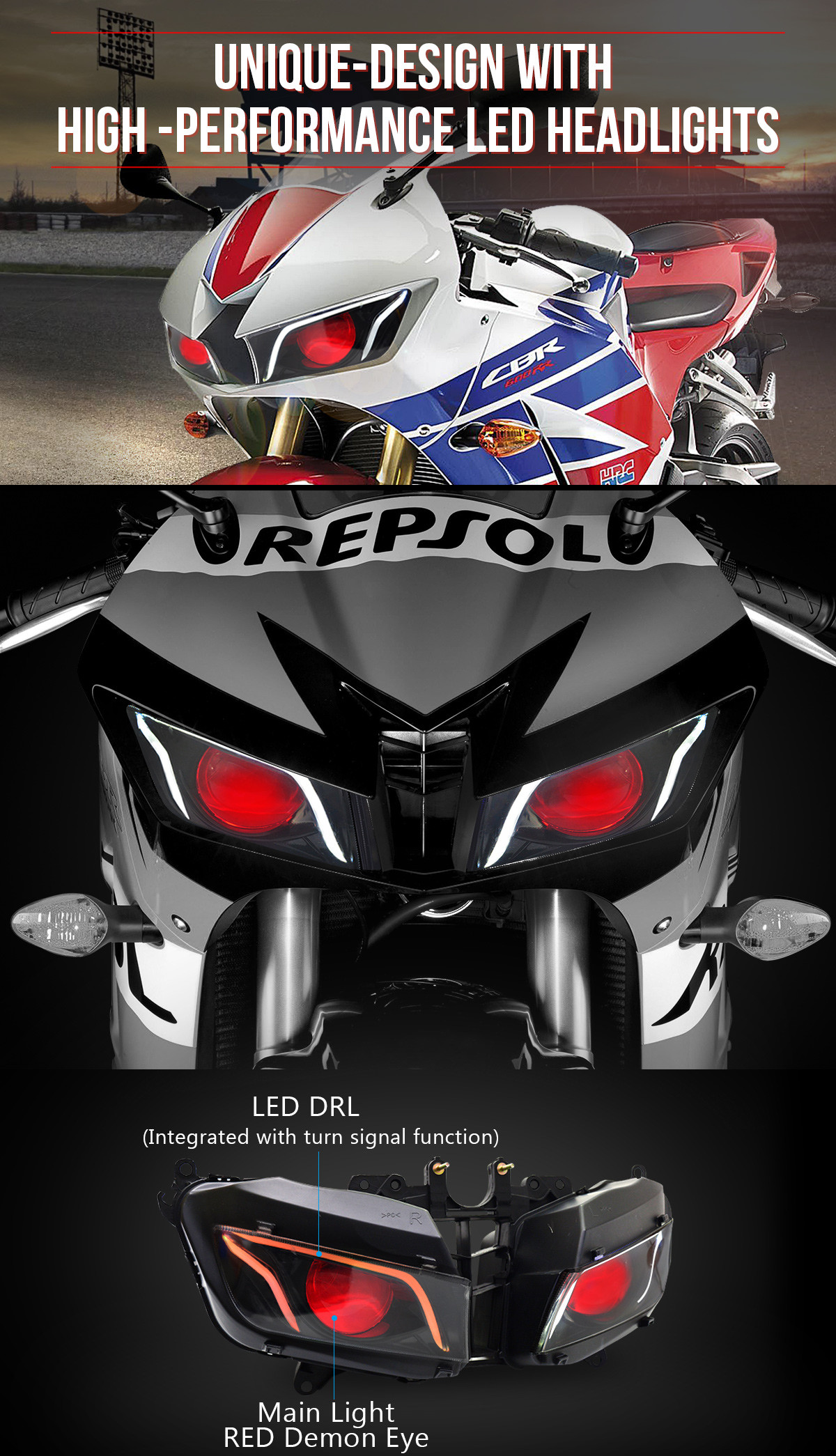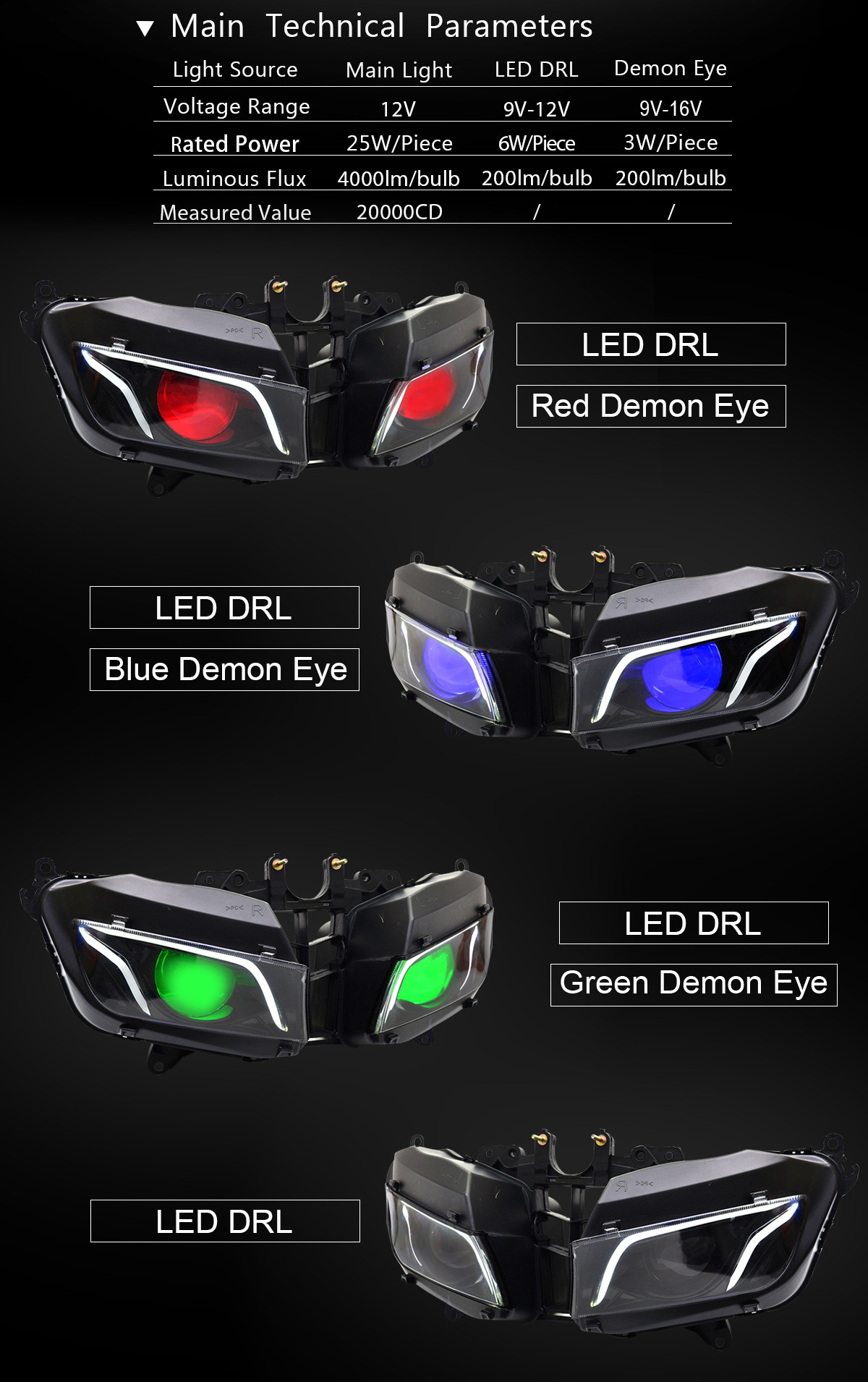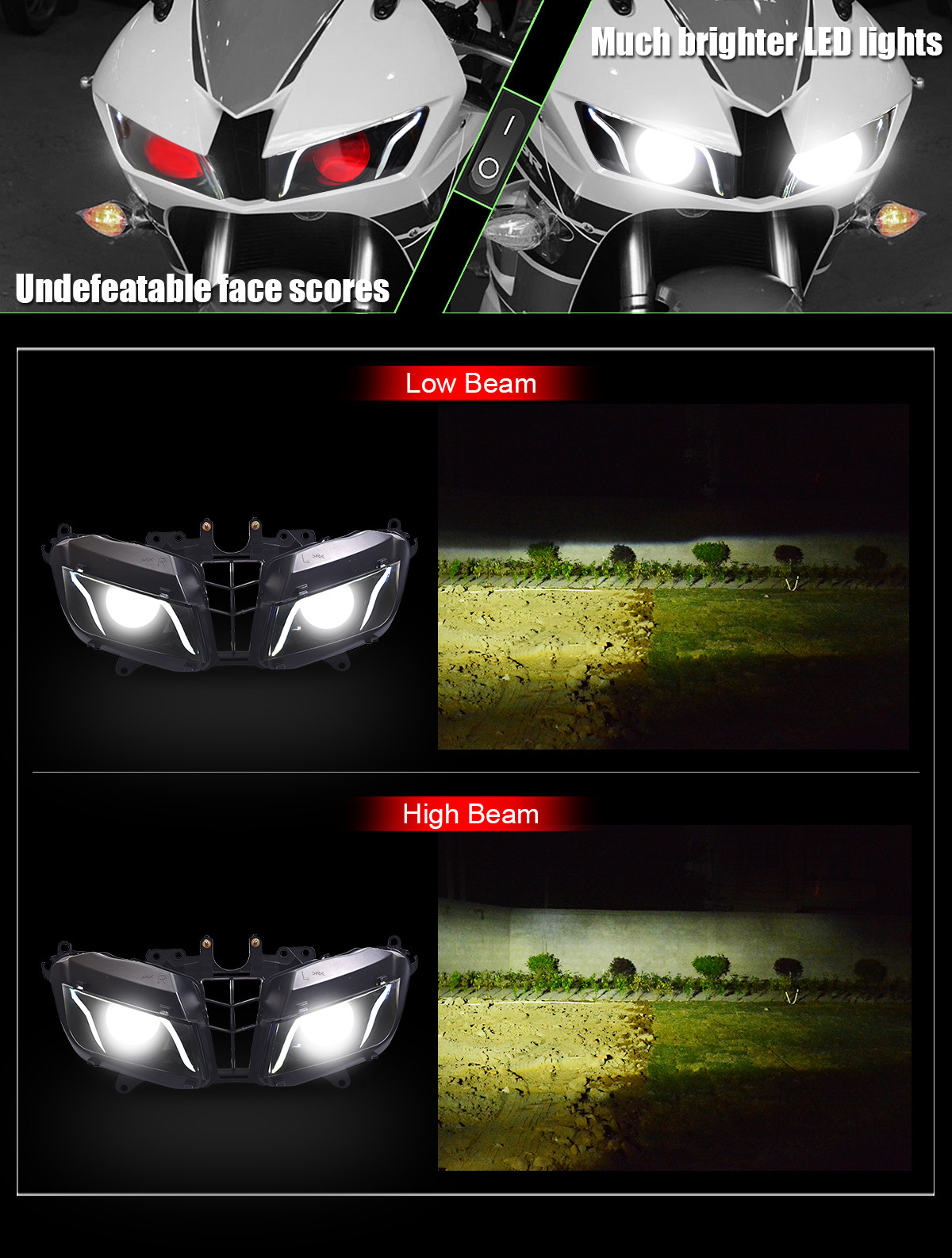 For Honda CBR600RR Full LED Headlight Assembly 2013 2014 2015 2016 2017 2018 2019 2020 V3

Full LED light
250% Brighter
LED Optical Fiber(Turn Signal Function) with LED Demon Eye

Dual LED Low Beam with Dual LED High Beam
Easy Installation

Item Specifics
Brand: KT
Application: Honda CBR600RR 2013 2014 2015 2016 2017 2018 2019 2020

Optical Fiber Color:White(Integrated with turn signal function)
Demon Eye Color: Blue,Red,Green,Orange,ect
Driving Version:
LHD:USA,CA,FR,IT,AE,RU,Etc
driving motor on the road's right side;
RHD:UK,AU,JP,IN,SG,MY,Etc
driving motor on the road's right side;
Packing List:
1*Headlight Assembly for Honda CBR600RR 2013-2020
1*Relay Harness
1*User Manual
Function Explanation
1:LED Optical Fiber:Always on while turning the key on.
2:Low Beam and LED Demon Eye:low beam on/off switch mounted by the KT relay harness,it can be used to control the low beam and demon eye on and off.
3:High Beam:Using the original high&low beam switch to control it.
2 Reviews
商品自体は、素晴らしいです。問題は、配線をどうやって収納するかに迷います。ギボシ端子と配線を購入してから取り付けた方がいいと思います。

Great Construction BUT Not Thought Out

Let me start off by saying that these lights are built fantastically and look amazing once you fight to get them in. However some major improvements can be made. I am not sure if I got a bad egg, but the splitter that is needed to connect the low/high beams on my model bike had the wrong connectors. So instead of battling over a connector, I had to cut off the plugs on both my bike and the headlights (which I know voids any warranty this things did come with) and spend about 3 hours extending the length of that same splitter since it was not at all long enough to reach the plugs that are on opposite sides of the bike. These are fantastic lights and I'm not going back ever, but be aware that unless you want to do a RMA it is possible you will be cutting and splicing wires.

P.S. for the electrical engineers for this model:
Please extend every last cable in this harness by at least 6 inches, zip tying extra cables is easier than fighting with short ones. Along with that, for true plug and play nature, please make a "Y" plug in splitter for the turn signals. That way you can plug one side into the oem, the other into the new turn lights, and the third into aftermarket turn signals. (We all know if someone is doing this mod they don't have stock turn signals)
How to do the troubleshooting?
1:If you're experiencing a problem with one of our products, we strongly recommends that you first troubleshoot the headlight.

2:We would like to think that every light we build is perfect. It's certainly KT's goal. In fact, the vast majority of our headlights are still in the field doing exactly what they're supposed to do. But even with our high quality, there are going to be occasional problems. We stand behind our products and if the customer has an issue we will make things right.

3:The problem is, we got some returns where the lights are okay and operate as intended. That means wasted time, effort, and money for everyone! We??d like to show the customer a few things the customer can check before returning a product to help determine if it's a warrantable issue or not. A returned product that is found to be functioning properly results in unnecessary costs to our customers in both shipping and time.

4:Assuming that the problem was found by unknown reason, the customer should firstly do the BENCH TEST for the headlight, by removing the headlight from the motorcycle and test it using a 12V power supply. If the headlight functions properly outside the motorcycle, the problem lies elsewhere and a return would not be covered under warranty. And of course the customer could ask us for troubleshooting videos if he cannot judge by himself,we created a video channel for our products.
One Year Warranty
One-year warranty will be offered for all KT headlight assemblies, if the defective parts /malfunction are found and proved during the warranty period, KT will provide free replacement(s) to replace the defective parts. Considering the high shipping cost and customs taxes, KT won't ask the customer to send back defective parts to us.

For proof, we will require the customer to send pictures or short video to prove the defective parts /malfunction.
1:If it is less than 3 months, the shipping cost for the replacement(s) would be borne by KT.

2:If more than 3 months and less than 1 year, the shipping cost for the replacement(s) would be borne by the customer.

3:If more than 1 year, KT would also provide replacement(s) with reasonable price.